Try as you might, keeping toys organised can be a tough job. Kids love their toys in easy reach and are often quick to make a mess so soon after we tidy. It can be the most frustrating thing in the world. Or the storage solutions we have are ugly and not overly functional, such as throwing everything in the toy box and hoping for the best.
Personally my lounge room floor often ends up being toy storage… no matter how many times I pick them up. Ahhhhhh!!!! But what really prompted me to put this round up together was a need for soft toy storage ideas initially.
There are so many cool toy storage ideas that may make the organisation a little easier for all of us.
To help inspire you to get your kids toys neat and tidy, I have taken some of the hard work out for you and found some genius toy storage ideas you can incorporate into your own home.
1. CUBE BOOKSHELVES
I actually love this idea, as it looks great and is so easy. Easy to reach for younger kids and the baskets hide away the unslightly mess. I have even seen the IKEA Expedit shelves used as a doll house, each cube a different room so this could be incorporated into the top shelves. Source
 2. STUFFED TOY SWING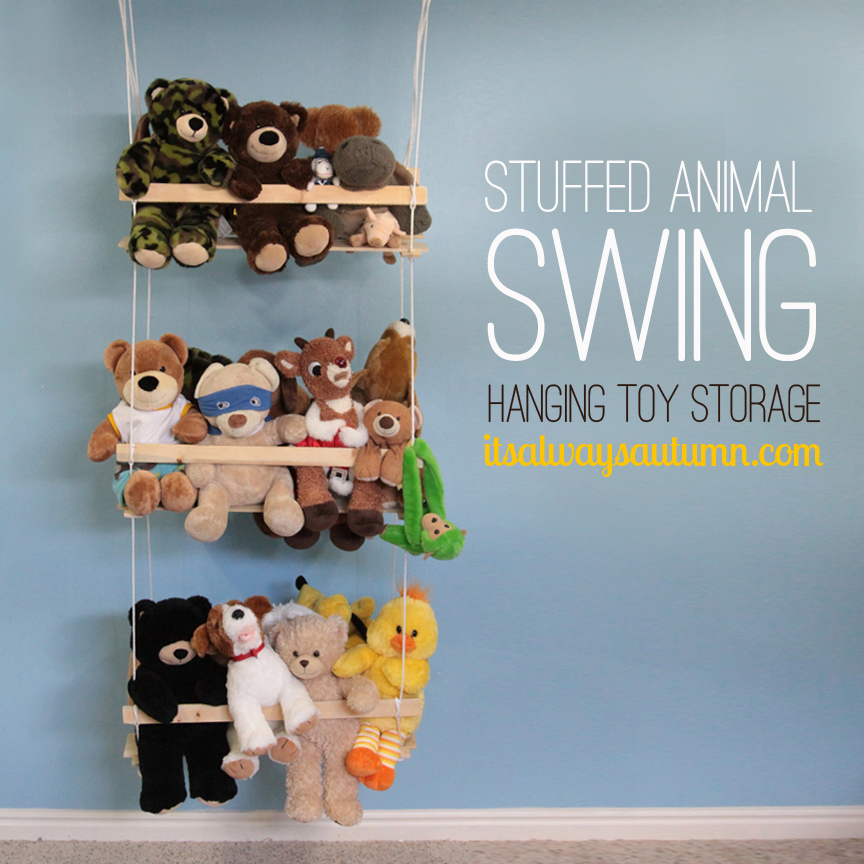 This is so freaking cute! Anyone who knows me knows I am a little anti-stuffed toy since becoming a mum. They are cute and all but seriously, how many does one kid need. My daughter got so many from birth through her first year and they just take up so much room. About once a year I do a cull, however we still have a pretty significant collection! Some are too cute to part with so this is one of my favourite teddy bear storage ideas.  Source
 3. BENCH SEAT STORAGE
This is another super cool IKEA hack, using shelving and adding bench seat cushions on top so the storage tubs are in easy access for kids, the mess is hidden away and you get some comfy chairs to sit on too. This would work in other areas of the home too, like lounge storage ideas for extra places to hide the fun stuff. Source
 4. DRESS UP RACK
Do you have a little actor or actress in the making? How about a dress up rack to keep all those costumes neat and orderly? Source
5. PEEK A BOO SACKS
Bag up different types of toys and still know what is in them with this peek a boo bag storage idea. Source
6. MATCHBOX CAR STORAGE
This has to be one of the best car storage ideas to keep those cars in one place. This not only gets them organised and off the floor, but also looks really cool as a decoration piece in a kids room or playroom. Source
7. STUFFED ANIMAL HAMMOCK
If you are looking for other ideas for storing teddy bears and stuffed toys, this is super cute! Plus gets them up off the floor and out of the way. It's a great way to display them as a bedroom feature too. Source
8. BOOK STORAGE
Books can take up quite a lot of room if you have an avid reader in your life. It's great to promote the young ones to foster a love of reading so keeping them in easy reach is a perfect option for this. Source
9. MATCHBOX HANGER
Another simple idea for keeping those matchbox cars organised. You could even hang it in the wardrobe with the clothes I suppose. Source.
10. STORAGE COFFEE TABLE
Want toy storage ideas that can be camoflaged in your living room… this coffee table is a super awesome idea! Source
11. ZOO STORAGE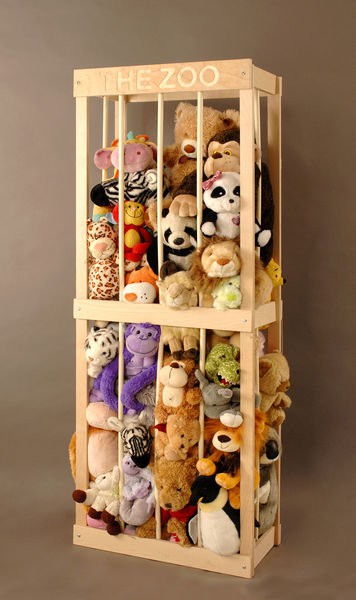 Want another stylish way to display and control those stuffed animals before they get out of control. How about a zoo display? These can be made to order via the website, however there are sure to be plenty of tutorials online on how to make the zoo stuffed animal storage. You could even convert an old bookshelf with a couple of bar-type add ons!  Source
12. WALL STORAGE
If you have the room, this wall lined with containers is a great visible way of seeing toys and keeping them sorted into their separate categories. Perfect if you have a touch of OCD going on too 😉 Source
13. LEGO STORAGE
Another one for the OCD at heart… colour sorted lego drawers. Looks good but probably only useful if your kids have a lot of Lego. Source
14. HANGING BEDSIDE ORGANISER
A great way of storing a couple of favourite toys or books close to bed for easy access. Source
15. UNDER BED TOY STORAGE
Under the bed is a great space to utilise if possible, so this is a handy tutorial for cute under bed toy storage ideas. Source
16. BARBIE ORGANISER
Need a home for all the Barbie dolls your child is collecting? This is a nice space saving option and Barbie organizer idea. Behind the door and out of sight once it is open and pushed back towards the wall. Source
17. LEGO TABLE & STORAGE
This is a great idea for keeping those Lego in one spot, plus giving the kids a place to actually play with their Lego. Functional and fun. Source
18. HIDE AWAY STORAGE
Toy storage ideas that keep the mess out of sight can be great. This is a simple option. A bookshelf with a curtain essentially. Source
19. STUFFED TOY BEANBAG
This one I am a little less keen to try. Some soft toys are not that soft really, with hard noses and eyes. But it keeps them hidden and can double as a chair if it's not too uncomfy. Source
20. BUNK BED SOFT TOY STORAGE
We got our daughter a bunk bed with storage in mind, as a place to store all those soft toys I have come to hate. They take up so much room and while my previous storage idea was okay, there were a few really oversized stuffed toys that didn't really fit. While she's still little and wants to keep them all, they can have their own home on the top bunk. You can see miss 2's toddler bedroom makeover here.
21. CLEAR TUBS
Clear storage tubs are a great way of being able to see what is in each tub, yet still keeping the clutter organised and orderly. Source
22. GARAGE STORAGE FOR OUTDOOR TOYS
While they are not in the bedroom or playroom, outdoor toys are much better organised too so this is a great outdoor toy storage idea. Source
23. LEGO MANUALS
This is something a lot of us may overlook as an important toy storage solution, but it would be great to keep all those instruction manuals for building Lego creations handy. Source
24. CAR TABLE
Okay so this one is more fun than storage but it still has some storage involved. How cool is it? I want one. Source
25. PLAY N WRAP HOBBY MAT
This thing is the best. We still have toddler blocks since we aren't at Lego stage yet, and we keep them in the hobby mat, so they are tied in a bag when not in use but easy to pull out and play. Also super easy to take on holiday when you only want to take a couple of things to entertain the little ones, which is what we did for our recent trip to the coast for the weekend.
26. STORAGE BED
I love these all in one bed set ups. So great to have not only a bed, a desk but storage too all incorporated into the one space. You need reasonably high ceilings for most of them but this one even has DIY instructions.
27. HANGING BASKETS
How great do these look? A stylish look to store toys, books and even big kid/teenage knick knacks to keep them orderly. While it doesn't hold a lot of things, this is a seriously cute toy storage option and it would be perfect in a nursery. Source
28. LEGO TOOL BOX STORAGE
What a great way to repurpose an unwanted tool box, or just a great storage idea in general for keeping those Lego's under control and off the floor. We all know the pain of stepping on a Lego piece! Such a cool alternative to toy box ideas. Source
29. DOLL HOUSE EXPEDIT
I mentioned earlier about the doll house Ikea Expedit that I saw online. Here it is. Pretty cool idea, although maybe more a kid's toy storage idea since they are still on display but it keeps the mess vertical instead of horizontal I suppose. Source
30. STUFFED TOY HANGER
Yep, another way to store the stuffed toys and up until purchasing the bunk bed, this was how I stored my daughters smaller stuffed toys. It works well as for a teddy bear storage and minimises the space they take up but no good for the giant teddy bear my parents so kindly got my daughter when she was born… sigh! Source
So there you have it! 30 totally awesome kids toy storage ideas that not only look good, but are completely functional as well! These handy storage ideas will have you rethinking the way you currently have the toy collection stored and hopefully even get the toy clutter completely under control. Best of all, most of these toy storage ideas are actually really inexpensive things to action in your home too!
Need even more ideas for kids toy storage? Check out 10 more cool organising ideas for toys. And make sure you pop on over to my Kids bedroom declutter to grab the free printable to help you get your kids bedroom under control once and for all!
Love these ideas? You will love my more awesome toy storage ideas post here too!
Do you have your own genius toy storage ideas to share?
This article may contain compensated links. See our full disclosure
here
.