It's nice to spoil dad's every now and again with something handmade with love, so Father's Day is the perfect opportunity for a bit of creative gift giving. If finances are a little tight or you simply want to help the kids create DIY Father's Day gifts he will love, there is sure to be an idea here to inspire your next family project.
Functional handmade gifts that suit dad's interest are always a winning choice and many of these gifts can be made from recycling items you may already have at home, or with fairly simple supplies.
This article may contain compensated links. See full disclosure
here
.
DIY FATHER'S DAY GIFT IDEAS
Photo Blocks
If you have some old wooden blocks hanging about that you no longer need, this is a great upcycling project to give them new life. Use some of your favourite family photos to make dad a photo block display.
Pallet Wine Rack
If wine is Dad's drink of choice, he will love this DIY upcycled wine and glass rack. It has a very rustic and decorative look and will look fantastic on the wall as a piece of home decor too.
Wall Mounted Bottle Opener
A stylish and functional wall mounted wooden bottle opener that would be perfect attached to the wall near Dad's home bar or barbeque area. It even has a place for all the lids to go so you aren't finding bottle caps all over the place.
Stamped Metal Bar Tags
For the father with a home bar area or display for his bottles, these stamped metal bar tags would be a great masculine decoration to his bar area. The idea could be adapted to suit other types of labels too.
Map Coasters
For a dad who likes to travel, consider making map coasters of places he has travelled, or that you have travelled together as a family. This is a great present for Father's Day for dad's home bar area.
DIY Grill or Bar Cart
This is a pretty serious DIY project, but also completely awesome. It may be a perfect gift from the grown up handyman kids, or call in some extra help from friends to make this DIY grill or bar cart. There are PDF instructions, but if it is perhaps more of a Dad DIY project, you could always buy him the materials and supply the cold drinks while he builds it. Great for a DIY loving dad!
Grilling Hamper
If you're less keen for the epic DIY project like the one above, a grilling themed hamper is a super easy way to go and you don't even really have to add your own handmade touch to the crate if you don't want to. But it's fun if you do! You could theme one around whatever hobby your dad has.
Wood Pen/Pencil Holder
This natural wood pen and pencil holder is a stylish and decorative DIY gift for Dad's home or work desk to help him stay organised.
Paracord Lanyard
Create dad a handmade paracord lanyard or keyring to keep his important items together. This is something useful he can carry everywhere he goes and think of you every time he uses it.
BBQ King Apron
Let dad be the king of the grill with this DIY BBQ King Apron. Get the free printable image and dress up a plain apron into one that dad will be proud to wear as he fires up the barbeque on the weekend.
Lime Shaving Cream
If Dad likes to be clean shaven for work, he may love this homemade coconut oil lime shaving cream that will smell good enough to eat. The lime scent will give him a zesty start to the day too with citrus being a great natural wake up.
Handmade Paper Weight
This is an inexpensive DIY Father's Day gift the kids can make with a little assistance from another adult. A handmade paperweight is functional yet sentimental one as well.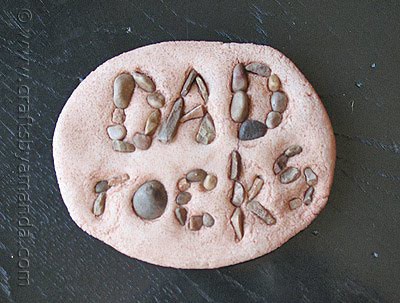 Homemade Printed T-Shirt
Make dad a shirt that no one else will have by creating your own homemade printed T-shirt. A simple DIY project that is low cost and easy to do with the help of the kids.
Daddy Daughter Date Book
This daddy daughter date book is just the most precious idea for little girls to give their dad. You could always put together a Father – Son Hang Out Book too maybe. Get creative and make a gift with the kids that dad will adore!
Check out my ideas for things to do with dad or 101 date ideas that can be modified to be family friendly activities, to help you come up with father date ideas for your book.
Nuts About You Gift Labels
There are plenty of free printable labels to put together a cheap and adorable gift for dad, like this Totally Nuts About You Daddy idea. Fill the jar with dad's favourite nuts or maybe have a little fun creating different flavoured seasoning for them too for something extra special.
Jerky Gift Basket
Here is another idea for a gift basket for dad. This one is a DIY jerky gift basket, however just like the grilling basket above, you can personalise a gift basket to suit the hobbies and interests of the recipient.
I Love You This Much Card
This simple novelty occasion card is so easy to make and it is a really fun and quick class project to make for students for Father's Day gifts too. The great thing is it can be an anyone card, not just for Father's Day.
Hopefully these DIY Father's Day gift ideas will help you come up with something fabulous that Dad will love. For fun ideas on things to do on Father's Day, find over 50 different activity ideas to do together as a family.
Need more gift ideas? Here are plenty of other DIY options that will be fun to make:
Not so keen on the DIY option or short on time? Check out these awesome gift ideas for Father's Day that dad will love! 
What is the coolest Father's Day gift you've ever made? Leave a comment below. I would love to hear it! And share this post to Pinterest via the image below! Be sure to follow me on Facebook or YouTube  for more gift ideas like these!