Having a home office is a luxury for many due to limited space in the home. Yet you can have an incredible home office, even when short on space!! Check out these styling ideas for small office spaces and be inspired to transform your own pocket-sized productivity station!
---
SEE ALSO:
---
5 STYLING IDEAS FOR SMALL OFFICE SPACES
Maximising your space is the key to small offices and there is a lot you can do with minimal surface area! These 7 ideas will be sure to inspire you to get creative and make your workspace functional and fabulous… rather than cramped and cluttered!
1 – Narrow Office Space
If narrow is what you are working with, the key is having furniture that is slimline also, to take up as little space as possible and prevent the space from feeling crowded! Well lit and bright is going to help the space from feeling cramped, so go for light colours and natural light where possible. An ergonomic office chair would be a great choice for small space as they often tend to take up less space, plus great for posture too if you're spending long periods in your workspace!
2 – Built In Office
When you have kids or teens in the house, or live in a single space apartment, sometimes a corner cubby style office or desk set up is all you can fit in. This built-in corner desk space is extremely compact and great if you don't require a lot of storage space or work resources. A perfect place to set up for homework or laptop work! This inspiration comes from The Gather Collective.
3 – Ladder Style Office
Apartment living has it's benefits, but lots of space is rarely one of them, so you likely need an office space that looks stylish, since it's always on display. A ladder style shelving unit/desk is a fantastic choice. A little storage at the top, and space for your laptop to sit too. Add some funky home decor to the shelves and make it look like a decorational addition to your home and not just a place of work! Recreate this look at home. Source
4 – Under Stairs Office Space
Got no where in your home for an office, but happen to have some wasted space under your staircase… there you go, a stylish small office space if you're willing to convert it! Work in with furniture, storage and accessories to suit your space and make the most of every corner of your home. Ikea is full of the perfect shelving ideas to fit any shaped area too!
5 – Closet Office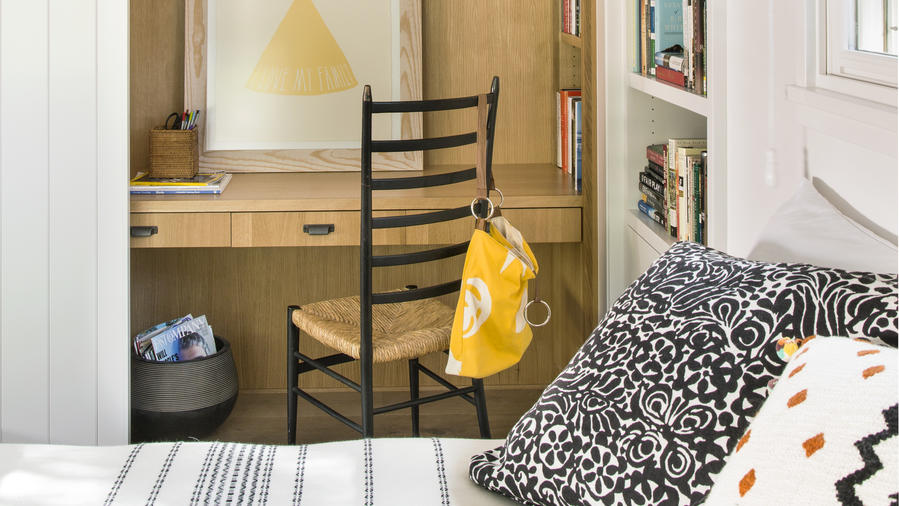 Credit: Sunset
Got a spare closet in your house? Turn it into a mini, hideaway office space. You can shut the door and no one will see your untidy desk… if you're prone to a bit of clutter! Perfect way to fit an office into a home where there is no other space for it!
Space does not need to be an issue when it comes to creating a functional workspace in your home. Get creative with styling your small offices and home workstations and the sky is the limit!!
For more functional home storage ideas, check out these uses for the Ikea Kallax shelving unit for every room in the house:
Do you have other small office inspiration you'd like to share? Add a link in the comments so we can come visit!