The best Ikea trolley uses for every room in your house! The Ikea Raskog Trolley has been one of their most popular products for quite some time simply because it has so many useful purposes. You can use the Raskog trolley from Ikea for EVERYTHING!
You could find a reason for one in almost every single room and for that reason, they are a great little investment for organising your home! You are about to discover the best ways to use an Ikea Raskog cart in your house!
The Ikea Raskog cart is a versatile household staple, just like the Ikea Kallax cube shelf unit! And one you can easily add a personal touch to with a quick Ikea hack.
CREATIVE IKEA RASKOG TROLLEY IDEAS
My Raskog Trolley purchase was around the time I was an avid scrapbooker and project life fanatic.
It was the perfect mobile trolley for keeping my most used items in one place.
I could wheel it into the dining room or the lounge room as well, so I wasn't limited to just crafting in the office.
So when I was deep in the process of overhauling my home office and craft room, the scrapbooking supplies came out of my Raskog trolley and it was converted into a business supplies cart for working from home.
More recently it has had it's time as a temporary home school cart as well! And now it does a perfect job of holding kids' craft supplies, colouring books and playdough.
---
Where To Get A Raskog Cart
Ikea stocks Raskog 3-tier carts in several colours and they always have them in stock.
These days you can get similar versions of the Ikea trolley in places like Kmart or sometimes even Aldi during one of their seasonal catalogues. They all do essentially the same thing.
There are some great versions you can purchase online too if you are nowhere near an Ikea store.
It is a 3 tier trolley Ikea developed that is on wheels, perfect for storing things short or long term. They are solid and sturdy and cute.
The Ikea trolleys have gone down in price over the past few years, which makes them even more affordable and well priced than ever before, at only $49AU. Woohoo!
Essential Raskog Accessories
Use these extra storage solutions to turn your Raskog trolley into an organisation station for your kitchen, craft room, home office… or any room!
Ikea Raskog Trolley Inspiration For Every Room
Having a versatile and mobile storage system in your home is a great way to organise certain spaces and items.
That is one of the things Ikea is great at, by making products that have multiple purposes for your home.
My home office makeover led me to find a whole lot of Ikea Raskog inspiration. It only seemed right to share some of these Raskog ideas with you gorgeous ladies (and gents) so here we go:
IKEA CARTS FOR CRAFT ROOM/CRAFT SUPPLIES
If you are looking for a craft trolley, Ikea has you covered! The Raskog cart is literally a crafter's dream! So versatile and mobile. Not so ideal for crafting away from home though as they are quite large and heavy.
Project Life Cart
This Ikea craft trolley is quite similar to how mine used to look, with Project life cards, embellishments, alpha stickers and lots of related craft tools in little boxes.
It really is a perfect option for keeping all your project life and pocket scrapbooking supplies in one place, but making them mobile too. The Raskog is pretty much a dream scrapbooking trolley or craft trolley.
Scrapbooking Supplies
Once again, this is a great way to create a mobile scrapbooking cart that you can move around your house when you are ready to get creative.
Mobile Craft Trolley
This super cute Raskog hack from Jennifer Maker is so simple, yet it looks great. And of course, a stylish way to move about the house with your craft supplies or project essentials.
Ikea Raskog Knitting Trolley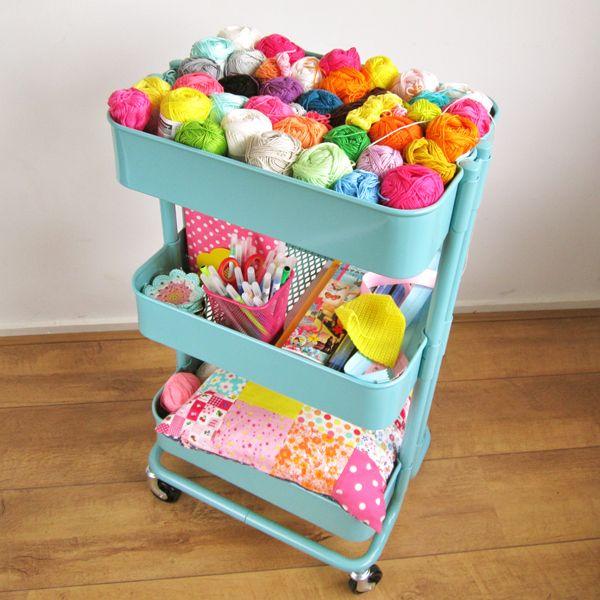 This Raskog knitting cart is a great storage solution for balls of wool and all your knitting supplies. You could even use one of the trays for your current knitting projects for easy safe keeping between sessions.
Sewing Machine Carts
This craft trolley Ikea style used as a sewing machine stand and storage is a brilliant idea for making a mobile sewing trolley to move around your home as needed.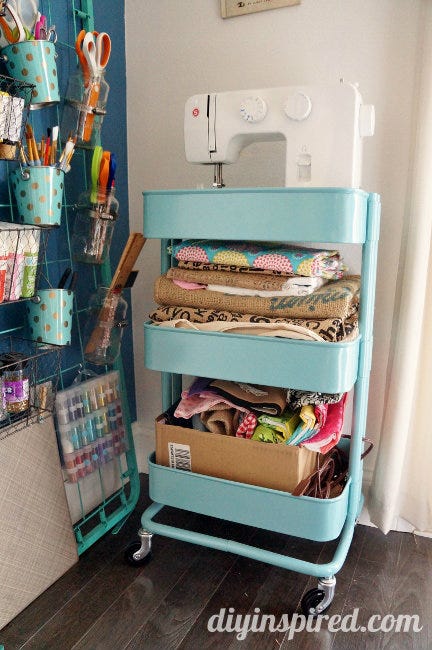 Planning Supplies Storage
An Ikea Raskog cart is a perfect space for all your planner supplies! This has given me a great idea for one of my shelves!
The Ikea 3 tier cart is a great option for putting your planner supplies on one level and other office or craft supplies on the others. Are you new to planning? Check out all my planner articles so you can get off to a good start.
Check out the best planners for busy women so you can start creating your own ultimate planner cart!
Colouring Cart
Turn your Raskog into the ultimate colouring station and art supplies storage with this specially built Copic market insert from Etsy.
And then step it up another notch, by adding a cover for your top tier so you can use it as a colouring table or for many other useful purposes. The cover is also available form Etsy.
Small Business Supplies
This was my very overloaded Raskog mail cart for my small business in one of its previous purposes.
It fits so much and the hanging clip-on pen holders are really useful! As are the magnetic containers to stick on the sides.
BEDROOM IKEA TROLLEY IDEAS
Surprisingly, even in the bedroom, there are plenty of great uses for these metal carts on wheels! Whether it is utilising a small space by having a mobile storage solution or using an Ikea trolley as a permanent fixture in your bedroom.
Raskog Trolley Bedside Tables
Need a bedside table in a hurry? How cool does the Raskog cart look in the bedroom. Love this idea!!
This use of the Ikea cart works either as a short term solution or as a long term functional piece of bedroom furniture.
KITCHEN RASKOG TROLLEY IDEAS
There are so many ways you can use the trolley in the kitchen, from long term storage solutions to short term events and functions, it sure does come in handy!
The best part is the fact that you can move it around to suit your purpose and it has an easy wipe-down surface to keep the utility cart clean.
Kitchen Cart
Food Storage
Add extra storage for pantry items. Or if you bake often, have a cart set up with all your baking supplies to have them in easy reach from your kitchen workbench. You could also turn it into a coffee station.
Bar Cart
Hello, party cart! A Raskog bar cart is a super fun addition to your next function! And it looks cute when using bar carts for your next home celebration or party.
Kitchen Garden
What a great way to set up your herb garden! No window sill needed.
My favourite part of this idea is the fact that you can roll it outside for extra sunshine or for a heavy watering, and the fact that the cart has drainage holes in the heavy duty mesh style bases.
Roll it back inside once the water drips have stopped or when you are doing a big batch cooking session and want to have your fresh herbs close by.
And if the colours aren't your style, you can paint it the colour you want before you put your cart to use!
HOW TO USE AN IKEA TROLLEY FOR KIDS & BABIES
The Ikea trolley for baby rooms and kid storage is such a wonderful use, mostly because it is mobile and you can move it around with ease.
Kid's Craft Cart
Craft trolleys are pretty much a dream come true for most kids! And they would be a great classroom organisation idea too!
Homework Station
This homework or homeschool station will make learning easy and fun with all the essential supplies kids need for doing their school work at home.
Reading Trolley
Encourage a love of reading for children by having their favourite books in an easy-access place. They can set up a reading nook next to the cart and lose themselves for a while in a story.
Nursey Storage
A nursery cart full of baby essentials, nappies or clothes is a great way to put your trolley to use!
An Ikea trolley Raskog or similar trolley would be such a cute way to store the stuff you use most right next to your baby change room or in your bedroom so you aren't moving between rooms so often.
It's nice to make life easier when a new baby arrives!
Read next: 30 Awesome toy storage ideas
BATHROOM RASKOG CART IDEAS
An Ikea 3 tier trolley would be a stylish addition to any bathroom space, especially if yours doesn't already have a lot of shelving. You could use it to store toiletries and cosmetics, or maybe as a towel rack.
The Ikea Raskog and similar shelving units are indeed versatile to be used all around the home.
Toiletries Storage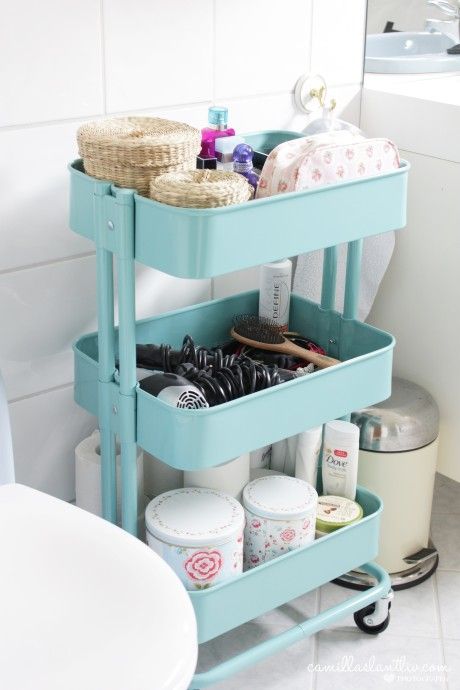 Bathroom Essentials
Keep fresh towels and new toilet paper rolls in a convenient spot. Great if you don't have any bathroom storage to fit larger items.
CLEANING SUPPLIES
Some of these ideas for cleaning supply storage are fantastic! Being able to wheel it around the house to clean each room makes it a great option.
Although depending on where you keep it and the age of kids at home, you may need to be careful what you put on your Raskog trolley.
We are working on reducing as many chemicals in our home as possible at the moment so we can have a non-toxic home.
OTHER IDEAS FOR YOUR IKEA TROLLEY
If those ideas weren't enough, here are even more cool Ikea Raskog cart uses and inspiration for other parts of your home that you probably hadn't thought of.
Pretty amazing, right? So many cool ideas and uses for a single piece of furniture.
I love how versatile they are and the fact that you could easily have several in your house all performing different functions. Let's just say, mine won't be getting dusty again anytime soon! The Ikea Raskog trolley is officially back to work in my office!!
If you don't have an Ikea craft trolley yet, you can get them from Ikea or find similar 3 tier trolleys at many other department and furniture stores.
If you are loving this Ikea inspiration, make sure you check out these super cool Ikea Kallax hacks and ideas for your home too:
What is your favourite idea for the Ikea Raskog Trolley?
For more home organisation ideas, check out these articles: