Finding the best planners for women is no easy task since most of us wear many hats! Whether we are working women, stay at home mums, or juggling lots of different commitments, there is no one planner to suit everyone!
Finding the right daily or weekly women's planner may mean trying a couple of different styles on for size before you find THE ONE! This collection of the best women's planners will help you find the right planner for your busy lifestyle!
Planning and organising are easier with one of these 2024 planners!
THE BEST PLANNERS FOR WOMEN FOR 2024
Deciding on the perfect planner can be a daunting task! Trust me, I go through this cycle every year just in case there is some new amazing planner that is exactly what I need.
However, the way I plan is likely different from how you plan, so what suits me may not suit you.
This is why I wanted to put together a list of different planners for women and mums, to help you find the one that is right for you.
Many of the planners on this list are ones I have personally used for planning and organising. Some I have not yet tried myself, yet are worth mentioning due to the great features they offer.
Don't want to read the full list? Here are my top 4 picks:
How To Choose A Planner
Choosing a planner that is right for you means having an idea on how you like to stay organised. If you are new to planning, you may take a bit of time to find the right fit.
Look at the current systems you have in place, if any, and see what is working and what isn't.
Then think about the features that are a 'must' for you. This will help narrow it down.
How do you keep track of appointments, tasks you need to get done and events?
Do you like to see everything in once place or broken down into smaller timeframes?
Are you wanting something for goals, journaling or budget too?
Your needs may change over time too. This means a paper planner that fit before may not fit now.
Best Daily Planners For Women
Daily planners are my favourite kind! I personally like to have a lot of space for my daily planning as I am a list person. My preference is for more space so each day has its own page. This is because I run two blogs and a home-based business, plus mum duties and general life!
Here are the best daily planners for 2024:
Erin Condren Planner Binder
The Erin Condren Planner Binder is a newer product in their extensive planning line up and it is amazing! You can mix and match pages to your binder that suit how you plan, so that means you can create a weekly or monthly binder, however, I love the daily planner option!
Each daily page has loads of room for lists and scheduled tasks. Pretty much my favourite planner style is one that includes both a daily schedule plus a daily to-do with notes space too. It has all of this!
You can also save in future by getting inserts instead of a new binder too, making it a great affordable planner option. This allows you to change your planning style as needed too if your situation changes.
---
Day Designer Daily Planner
The Day Designer daily planner is a beautiful layout with all the essentials a busy woman needs. From a daily schedule with hourly time slots to a giant to do list to stay on task.
The daily pages also have notes, gratitude, top 3 tasks, due, spending, dinner and reminder boxes for quick reference.
There are goal-setting pages, beautiful foil stickers and it is available in two different sizes. This is a beautiful choice for a daily planner.
They also have weekly planners and planner accessories available.
Use code DDAFFILIATE10 for 10% off your first order!
Amelia Lane Desktop Daily
The Amelia Lane Desktop Daily is the planner I am using for 2024 and it will be my fifth year using this incredible planner.
It includes everything I was looking for in a planner – daily planning pages with space for top 3 priorities, daily schedule, to-do list, meal plan and notes. All on the daily page!
The planner also includes sections for goals, monthly habit tracking and budgeting.
It also has a bucket list, passwords and log-in details, gift buying, books to read and more. It is the ultimate planner for busy mums and working women.
Amelia Lane Designs also make weekly planners and compact daily planners. I use the desktop daily because I work from home and the large size is great for anyone who likes long to-do lists, notes spaces and a schedule… without having to squeeze it into a tiny space.
Check out my flip-through video to see more.
---
Best Weekly Planners For Women
If you like to see your whole week at a glance, a weekly planner is likely a perfect option for you! This means less space day-to-day for filling in your tasks and appointments, but a great format for most people who don't keep daily lists.
Here are the best weekly planners for women:
Erin Condren Life Planner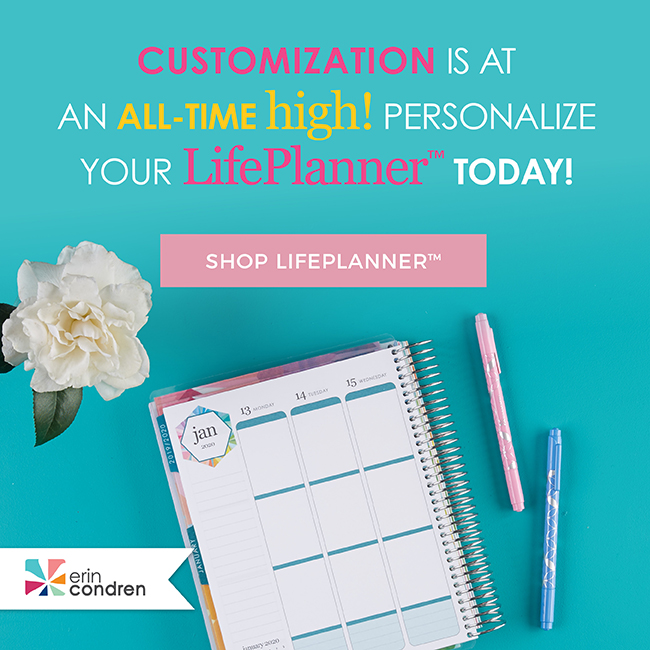 Erin Condren Life Planners are popular for a good reason! They are amazing planners and offer so many great features. The best thing about their weekly planners is that they come in 3 different design formats to suit different needs – horizontal boxes, verticle boxes or hourly.
They also include month at a glance, goal setting, special dates and blank spaces for notes. Oh and stickers! Planner stickers are so fun and you get 4 sheets of stickers with your Erin Condren Life Planner.
---
My PA Planner
If you want a weekly planner with plenty of room for daily tasks, habits and schedules, plus a weekly and monthly review, the My PA Planner is perfect!
This planner quickly shot to my top recommendation list because not only does it have everything you need for a weekly planner, but it is also one of the most comprehensive goal-setting planners I have ever seen!
This planner has detailed goal planning, reflections, journaling and assessment areas for anyone who wants to make the new year one of growth. This planner has thought of EVERYTHING!
This is a planner I used specifically to track my business goals each month.
You can have a closer look inside the My PA Planner with my video flip through.
---
LH Agenda Weekly Planner
If you want a compact planner that is small enough to keep in your handbag, yet still has plenty of room to keep your day to day life organised, the LH Agenda Planner is the perfect choice for you!
This petite weekly planner has everything you want in a weekly planner format, with a splash of goal setting, gratitude journal and monthly reflections. It's actually amazing how much fits into this small planner.
And best of all, it comes in so many beautiful cover designs to suit your personality too! This is a busy woman on the go dream tool!
Take a closer look at the LH Agenda luxury planner in my flip-through video.
---
The Happy Planner
If you love decorating your planner or have a passion for scrapbooking and getting creative, The Happy Planner is the ultimate weekly planner for you. With so many cute accessories, stickers and embellishments, what started as a sticker and scrapbooking company is now the ultimate in cute, fun planner systems to suit everyone.
They also have monthly and specialised planners to personalise as well.
---
Saint Belford Curation Diary
The Curation Planner from Saint Belford is a day planner with a heavy focus on self-care. If you need a little extra push to focus on your mental health, well-being and gratitude, this is a perfect planner for you!
This planner is a great reminder for those of us busy mums and working women who need a little extra accountability to look after ourselves. You can use code SIMPLIFYCREATEINSPIRE to save on your order.
Check out my video review here.
---
So Typical Me Planner
The So Typical Me planners are unique because you can design your own. Their website gives you the chance to decide what pages you want to include, the format you want, and the decoration too.
You can keep it really simple and minimalist or you can add splashes of colour and borders. You can also choose the dashboards you add such as habit trackers, mood trackers and budget trackers and you can choose the extra pages at the back too – reading logs, workout trackers and more.
Check out my video review here.
---
Best Monthy Planners For Women
Monthly planners are great for organising families when you simply need a visual of all that is coming up. This way you can see all the events, occasions and important dates easily for the month ahead.
Monthly planners are best for anyone who does not do a lot of day to day planning since you do not get a lot of space to map out your schedule. Wall planners can also be a great alternative for monthly planners.
We used a wall planner as well as my daily planner to give the whole family a visual for what's coming up.
Erin Condren Deluxe Monthly Planner
If your main goal is keeping track of important events, dates and birthdays, a monthly planner is a great option. The Erin Condren Deluxe Monthly planner has monthly & yearly goal sections, month view with boxes, birthday lists and notes areas. It also comes with cute stickers and inspirational quotes throughout.
---
Plum Paper Personalised Planner
The Plum Paper planners are incredible because you can create the planner you want by customising every page and every section. With this customisation comes a higher cost, but it means no trying to find 2 or 3 planners to do all you need.
You can customise the headings on your monthly spreads, add in budget pages, meal plans, shopping lists, business goals, fitness tracking and pretty much everything else you can think of. I also love that you can get it in a larger size too!
The Plum Paper planners also come in daily and weekly planners, in a range of formats. This is definitely one of the best customisable planners and a great Erin Condren alternative!
---
Quarterly Planners for 2024
Quarterly planning was something new to me until 2018 when I started using a seasonal planner. The great thing about them is you get that fresh planner feeling 4 times a year! And because they only cover 3 months, they have a load of extra planning pages and tools included.
Soul Modes Daily Diary
My 2019 planning was using a Soul Seasons planner. It has had a recent makeover, switching to a hardbound format and smaller size. The best part is having a daily schedule, to-do list and full-page just for journaling. This is a perfect option for anyone who enjoys the mindfulness act of daily journal entries as well as staying organised.
The Soul Modes Daily diaries are released seasonally, so one each for summer, spring, autumn and winter each year. The costs can add up a little extra by planning this way though.
---
The Control Freak Diary
The Control Freak quarterly diary is perfect for busy women in business. They are jam-packed with goal setting and organisation pages for working mums. This is a daily planner with to-do list and day to a page.
You can subscribe to the diaries to get a discount, compared to purchasing individually. And you get the added fun of choosing your cover each quarter. They start with January to March quarter, rather than seasons like the Soul Seasons diary.
---
Speciality Planners For Working Women
Sometimes we have a need for more than one planner to organise different areas of our lives. While most of us can manage with just one, if you are a working mum or a business owner, you may need a little something special.
These planners are designed for planning specific areas of your life and not the everyday stuff that goes in a standard personal planner.
The Daily Grind Planner
The Daily Grind planner is a 4-month goal-setting planner for when you want to go all in on your goals.
The planner has almost a bullet journal vibe with a 4-month vision and weekly and monthly goal and review pages. You can identify your top goals, and top priorities each week, where you want to focus your energy and your game plan for getting it done.
The daily pages allow you to stay laser-focused on those top 10 goals but with daily actions to get you one step closer every single day. This stops the overwhelm from taking over!
They are disc-bound planners with funky interchangeable covers. You can purchase replacement planner pages as well as budget pages and other add-ins.
USE COUPON CODE "HOLLY" FOR 10% OFF YOUR ORDER!
Check out my video review here.
---
The Content Planner
If you have any sort of online business, staying organised with all your social media and website content can be the worst! This is where The Content Planner is pretty amazing.
It is aimed towards women in business who want a complete content plan all in one place!
And it is beautiful! There are new colours released each year. The planner allows you to organise 15 months of content, so you can stay ahead with important events and launches.
---
Erin Condren Teacher Planner
Staying organised as a teacher is a whole other challenge! Teacher planners are a perfect solution and the Erin Condren teacher planners are fantastic! Plan your weekly class lessons in one place so you can be the most organised teacher at school!
They come with loads of cute cover designs to choose from and are personalised with your name. Teacher planners make perfect teacher gifts for end of the year too!
---
Best Planners For Men
Yes, they get a mention too! If you have a man in your life who would benefit from a great planner to help them to get organised, these are some of the best planners for men. What a perfect gift idea it would make too!
Planners like Erin Condren and the stunning options above may be perfect exactly what makes our lady-hearts sing, but for the men, here are some more masculine options:
Also, check out my daily planner pages available in my store if you want to create your own printable daily planner:
The Verdict – Best 2024 Personal Planners For Women
Every planner on this list offers an incredible set of tools to help you organise your year. As I mentioned before, there is no one planner to suit everyone so your perfect planner could be any of those in the list!
My personal favourites are the Erin Condren Life Planner and Life Binders, the Day Designer Daily Planner and the Amelia Lane Desktop Planner. These all have everything you want in a planner for busy mums and working mums.
And for keeping my online business content organised, I also love My PA Planner as a secondary organisation tool for online business!
Want to help your child to develop a practice of gratitude and daily journal writing? Check out the best growth mindset journals for kids and teens.
Need more tips on staying organised? Check out these: